What is Integrated Pest Management (IPM)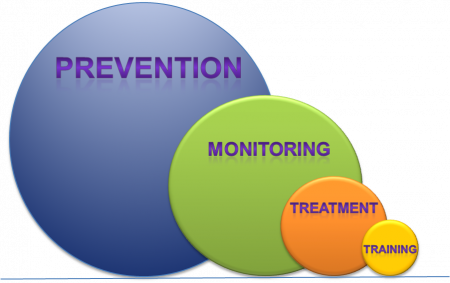 'IPM' stands for 'Integrated Pest Management' – a method for minimising the use of pesticides in pest control.
Hotel guests are becoming more environmentally conscious and look for hotels that are responsive to their needs and are environmentally aware. One of the easiest but sometimes most overlooked ways to reduce a hotel's environmental impact is to implement an Integrated Pest Management (IPM) Plan for pest control. An IPM Plan combines multiple proactive measures to prevent pests, starting with non-chemical methods like improved sanitation and maintenance protocols. By removing or blocking access to basic elements essential to pest survival, such as food, water, and shelter, an IPM Plan can often significantly reduce or eliminate pests, creating a safer, more eco-friendly environment for hotel guests and staff. And now, even if an infestation occurs, it is not necessary to use chemical pesticides.
The IPM pest control system is specially developed for the hotel and catering trade. It monitors and eliminates insects and pests – simply and safely.
Procedures
If you do NOT have an IPM Plan in place, the following questions can help you select a qualified pest management provider who can develop and implement a plan tailored to your hotel or motel:
Is the provider a recognised authority on IPM practices?
Can the provider assist with the implementation of green/natural building certifications like Qualmark and others?
Does the provider specialise in commercial pest control and offer an IPM Programme tailored to the special needs of hotels and other businesses?
What other hotels and businesses does the provider currently service? Is the provider a member of national pest control associations?
Are the provider's technicians qualified and appropriately trained?
Does the provider have sufficient insurance coverage?
What documentation is provided with the pest control service? How soon is it available to you after service?
Does the provider offer a satisfaction guarantee on its service? How does the provider address quality assurance?
What kind of training do the pest control technicians receive and how is it conducted and documented?
What is the average response time to a pest-related emergency? Is there an extra charge for such emergency responses?
Does the provider offer professional-quality training for your employees?
Does the Provider use a Chemical-Free Method of Pest Control?
If you DO have an IPM Plan in place, the following tips will help you better meet your pest control goals and ensure success:
Become more knowledgeable about IPM and its advantages over other pest control methodologies. Share this information with your staff to gain their understanding and active support.
Set goals and measurable objectives for your IPM Programme for features such as efficacy, cost, and safety.
Institute clear policies and procedures around structural maintenance, sanitation, and pest control. Establish a follow-up process for any written recommendations made by your pest management provider.
Establish a system of regular IPM inspections with your provider and carefully monitor pest "hot spots" in your hotel, such as:
Lobby and other entrances
Guest rooms
Kitchens and/or restaurants
Vending areas
Pool
Laundry areas
Loading docks
Waste disposal areas
Communicate with your pest management provider regularly to monitor the effectiveness of your IPM Plan and fine-tune it as necessary.
Track progress and communicate success. Audit your IPM Programme at least once a year. Tell your staff how your IPM Programme is reducing chemical use, reducing pest complaints and lowering costs to help them understand the purpose of the programme and appreciate its success. The more they understand, the more likely it is that they will proactively participate and help.
Our Range of Services
We will train your staff in IPM. Good training can save you lots of money, as trained staff can help you become even more successful.
We have Food Industry and Catering Expertise.
We use the latest pesticide-free techniques, and are fully conversant with its operation. We can provide stand-alone schedules and documentation for due diligence purposes or integrate with any client system.
We Guarantee
Operatives trained to food industry standards
Methods, materials and equipment designed for the food environment
Management and technical elements specifically geared to the food industry
Post Control – Keeping home and business clean after ALPECO Pest Management.
It does not matter where you go, bed bugs, rodents, cockroaches, ants and termites always seem to find their way into your or other's property. Unless you follow a strict sanitising regimen in your house, regularly cleaning every nook and cranny, you can expect them crawling about before too long. Of course, you can always rely on the services of pest control experts to help you get rid of the nuisance. But what happens after the process is completed? The answer to that requires your cooperation or you will soon be facing another onslaught.
First, you will have to clean the entire house right after the bug management team has left. You have to vacuum up any insect remains. Make sure that you check cabinets for any dead roaches and the like. Afterwards, wipe the entire surface with disinfectant to get rid of any bacteria. Once that is done, you can start re-organising all your belongings. Now, considering the amount of effort required to complete all that, you should seriously think about reducing the presence of those irritating creatures in your residence. There are a number of measures you can take to ensure this. Make it a point to vacuum, mop, dust and sanitize once a week. You have to make sure that the kitchen, especially the sinks and counters, are clear of any spills and cluttering utensils. It is also essential not to leave potential food sources available for these "unwanted visitors". Any leaks in the pipes must be fixed right away. That way, you can get rid of possible stagnant water where mosquitoes can lay their eggs. You should also unclog pipes and pour boiling water down them to ensure that larvae are not living there.
As for the outdoor area, make sure to trim shrubs and cut overhanging tree limbs that reach your roof. It can help deter possums from making a home in your loft. You must clean gutters, as well and dispose of dead foliage, to keep the rodents out.
Rigorous implementation of an effective IPM Programme will ensure your property remains pest free.
Contact us to discuss your IPM requirements NOW!