Unique Projects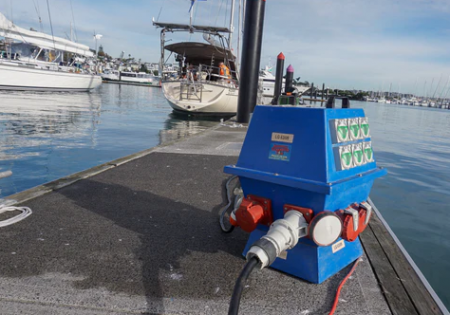 Non-native termites and other wood-boring insects are occasionally found on recreational vessels on arrival from overseas. Until now, they have been treated by 'gassing the vessel' with a fumigant such as methyl bromide to kill the insects.
Biosecurity New Zealand (BNZ) has successfully trialled a new method of heat-treating invasive termites on an imported yacht. Biosecurity New Zealand's director of readiness and response has said the recent successful use of 'heat treatment' is a significant achievement and represents a milestone in the use of non-fumigant solutions to treat pests.
Also "In this case, being able to treat a vessel at berth was quick and convenient. It also supports BNZ's drive to use environmentally sustainable treatment options and reduce the use of chemicals and fumigants where possible."
The yacht in this case was found to have an infestation of the West Indian drywood termite, Cryptotermes brevis, which meant treatment was required to prevent this invasive pest from escaping and establishing in local environs.
Internationally, Cryptotermes brevis is regarded as one of the most damaging drywood termites. It feeds on dry wood and poses a significant threat to untreated timber framed homes and items made of timber.
BNZ says the new treatment involves circulating air throughout the sealed vessel at a constant high temperature for a minimum of 5 hours with close monitoring.
"Subsequent testing confirmed the treatment killed all termites present. Post treatment sample analysis by Biosecurity New Zealand's Plant Health and Environment Laboratory has confirmed the effectiveness of the treatment.
BNZ will be exploring other uses for this method across New Zealand's biosecurity system as this treatment is shown to be effective against a range of parasitic and insect pests including bed bugs. An added bonus of the heat treatment is its ability to sanitise and freshen the treated environment, and there is no stand-down time to re-enter and re-use the treated space.
Thanks to www.heatme.co.nz
Cat Netting For Outside Enclosure
Installation of 30x3 meter cat run so they can enjoy free open space.
From a distance you cannot even see the netting, all made with high quality stainless steel products.
We can net any type of structure for any type of needs.
Building was very fun, with good people, beautiful cats and a great finished products.
Cats now enjoy a luxury lifestyle with a penthouse and a big backyard.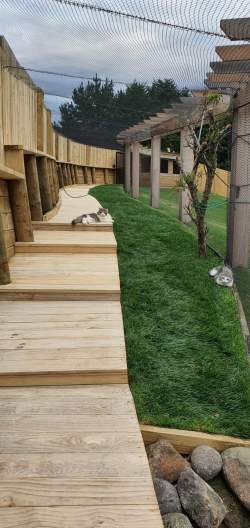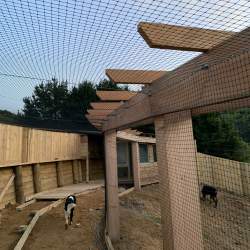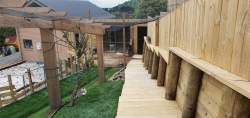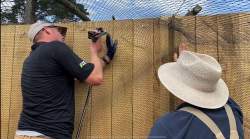 Davis Food Ingredients Bird Netting
Installation of 19mm bird netting for Davis food ingredients put a stop to the pesky birds flying and nesting on the canopy roof.
Alpeco Bird Netting sets the industry standard for strength, quality, UV stability. Alpeco Bird Netting is the number one choice when it comes to denying pest bird access to literally any architectural configuration that can be enclosed including industrial, commercial and domestic situations. Examples include warehouse ceilings, courtyards, roof tops, loading docks, awnings, overhangs, parking garages, building facades, and the like. Due to the aesthetic appearance of fine, premium Alpeco bird netting, the areas of use are only limited by your imagination.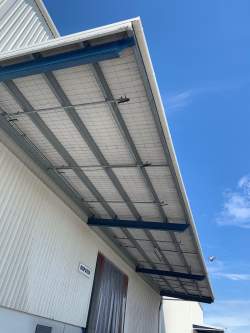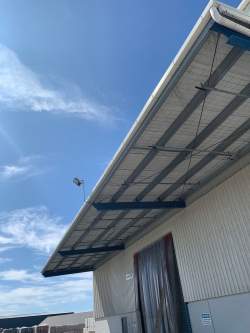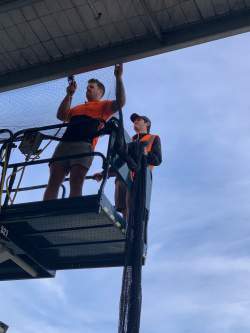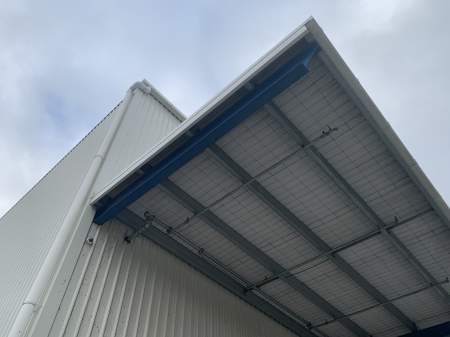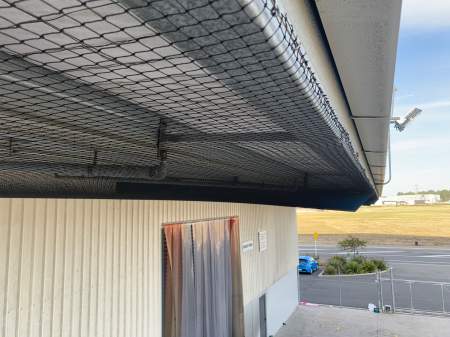 NB-IoT with Vodafone and MinkPolice & Predator Free 2050
Predator Free 2050 is an ambitious goal to rid New Zealand of the most damaging introduced predators that threaten our nation's natural taonga, economy and primary sector.
Join us in eradicating New Zealand's worst introduced predators: rats, stoats and possums. Going predator free will bring us a huge range of environmental, cultural, social and economic benefits.
Predator Free 2050 (PF2050) brings together central and local government, Iwi, philanthropists, non-government organisations, businesses, science and research organisations, communities, land owners, and individuals like you.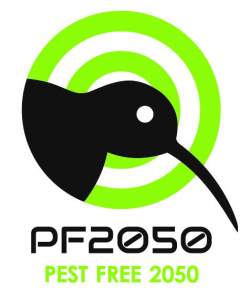 German Technology at Centre of Community Project
13.12.2015
Press Releases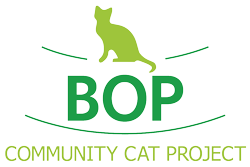 Specialised German technology is being used in a world's first as part of the Bay of Plenty Community Cat Project to ensure wellbeing of owned cats and native wildlife in the region, making sure each and every movement of the project is humane and has the cats' welfare in mind.
The Bay of Plenty Community Cat Project (BOPCCP) is a collaborative effort between the Rotorua SPCA and Tauranga's ARRC Wildlife Trust with backing by the Bay of Plenty Regional Council and the Department of Conservation; and hopes to see a dramatic decrease in unowned and stray cat populations around the region within three to five years.
Tools to tackle bed bugs discussed at Pest-Protect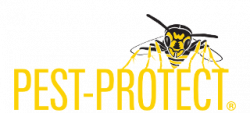 Judging by the number of people who packed into the seminars on how to detect and control bed bugs without using chemicals, German pest professionals are keen to improve their knowledge and widen the scope of their approach.
A review by Heiko Kaiser of his experiences in tackling bed bugs in New Zealand took place at Pest-Protect in Stuttgart on the morning of 2 March.
German-born, Heiko emigrated to New Zealand in 1999. He explained how he came to be actively involved in pest management after spending some 25 years in the food, drink and hospitality sectors.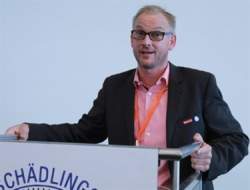 Heiko Kaiser shared his experiences of controlling bed bugs
Good timing
Heiko was fortunate to set-up his new business just before the Rugby World Cup was staged in New Zealand.
The prospect of all those extra travellers raised fears of a bed bug explosion and created a climate in which hotels and hospitality businesses were keen to ensure they remained bed bug free. After all, the mere mention of a bed bug on social media or Trip Adviser can cause huge economic damage to a hotel or restaurant.
For bed bugs Heiko advocates three main techniques which can all be integrated, depending on the specific bed bug control challenges being faced.
He explained that heat is the most expensive technique used by ALPECO, but it is also the most successful. Freezing using Cryonite is also employed and steam can be useful, but it has its limitations. However, he is not against all chemicals. "We use chemicals as a last resort, although in most case we don't need them," he said.
The use of these techniques does require training and he issued an invitation to pest controllers "to come to New Zealand to learn how these techniques can be used successfully".
The biggest challenge of all, however, is to ensure customers and their employees are properly trained. "Prevention and early identification are key. We earn as much money from the work we do in prevention as we do from treatments," he explained.
"With the rise in international travel, the development of resistant bed bug populations and the power of social media, there's a good future for this business," he concluded.