Restaurants and Food Industry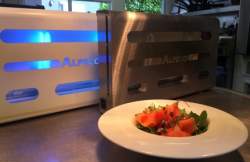 Restaurant Pest Control
We certify with the Hi-Eco-Genic certification!

Restaurant owners and managers must be aware that although they can do their own pest control (in most states,) there are certain regulations and limitations for pest management in any commercial food handling area. The regulations are in place to ensure that food, food preparation equipment, serving areas, etc. are not contaminated with pesticide insecticide, rodenticide residues.
Measures are also taken in fly control and rodent control to ensure that no body parts can contaminate foods or areas where food is uncovered, prepared, cooked, served or eaten.
The main areas we cover are the main pests threatening your security i.e. general purpose pest control (roaches, ants, spiders, pantry pests, flies, etc.), rodent removal, rodent control.
Are ready for the NEW Health and Safety regulations?